Sunday July 17th, 2022 at 1:00 PM
The 5th annual Firefighter Tug of War at Paperfest on Sunday is exclusively for firefighters only! Families are always welcome to watch this free event and stay for some great food, drinks and live music! Special thank you to the Kimberly and Combined Locks volunteer fire departments to help organize this event.
Registration
FIRE FIGHTERS ONLY – FREE
Firefighter Tug-of-War Sponsor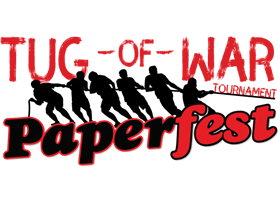 2021 – Village of Kimberly
2020 – Canceled due to Covid-19
2019 – Village of Kimberly
2018 – Village of Kimberly
2017 – Village of Combined Locks
Details
Teams will compete for the first place cash prize and traveling trophy. The tug of war is a best 2 out of 3 pull with the winning team moving on to the next round. Team order will be selected at random. REQUIRED: Bunker Pants, Boots, and Structural Fire Gloves.
All participates must sign and return a Paperfest Waiver before participating in any event. You may print and sign the above waiver and return via email or mail, or bring with you the day of the event.
Firefighter Tug-of-War Pictures