PAPERFEST IS A FREE-ADMISSION COMMUNITY FESTIVAL ORGANIZED BY KIM-COM PROMOTION – A 501(C)3 NONPROFIT ORGANIZATION
Since 1989, the Kim-Com Promotion team works year-round to plan the annual Paperfest event. Made up of dedicated volunteers from throughout the Fox Cities, the volunteer board of directors are driven to provide the community with a free-admission event featuring something for the whole family to enjoy through a variety of activities and live music options.
The music is great and the beer is cold – the best part is the proceeds from Paperfest are donated back into the community. Supported entirely by volunteers, each volunteer is encouraged to dedicate their hours to a local charitable organization of choice. OVER $1.2 MILLION DONATED!
Named after the booming paper industry that brought life to the Fox River area, Paperfest is a reminder of the great history our community shares. The four-day event attracts upwards of 35,000 people from throughout Northeast Wisconsin each year with an annual economic impact estimated around $1 million.
While attending Paperfest may be free, creating a festival of this quality is not. Thanks to the dedicated committee members, countless volunteers, and generous sponsors Paperfest is able to remain free for the community while providing some of the best live music available in Northeast Wisconsin. Interested volunteers, nonprofits, and sponsors are invited to contact paperfestwi@gmail.com.
Interested in supporting Paperfest as a sponsor, click here to learn more or email: PaperfestWI@gmail.com
Looking to donate to Paperfest and support free-admission and local nonprofits, click here:
Kim-Com Promotion Volunteer Board of Directors
Kim-Com Promotion, LTD is a 501(c)3 nonprofit organization founded in 1989 by James Boots, DC and Dennis Smits. Our board of directors are unpaid volunteers working plan a quality event each year and to ensure the future sustainability of Paperfest.
Officers:
President – Matthew Boots, DC (Boots Chiropractic)
Vice President – Jeremy Biese (Biese Painting)
Treasurer – Vicki Powers (Retired)
Secretary – Kevin Boots, DC (Boots Chiropractic)
Sub-Committees
•  Music & Entertainment     •  Sports (Per Each Event)     •  Food & Beverage
•  Sponsorship     • Marketing & Promotion     •  Volunteer     •  Grounds Crew
•  Kids Games & Activities     •  Finance
Directors:
Jordan Bayorgeon (Schneider)
Rylie Biese (Marty's Place)
James Boots, DC (Boots Chiropractic)
Kimberly Boots (WIPFLI)
Sarah Catallano (Boots Chiropractic)
Evan Freimuth (Venture Wisconsin)
Racquel Giese (Village of Combined Locks)
Pam LaPlant
Julianne Oswald
Paul Oswald
Lori Reed
Dennis Smits (Interiors on Madison)
Vicki Tessen (Village of Harrison)
PAPERFEST PLANNING COMMITTEE
Join the Paperfest Committee and positively impact the community! We are always looking for creative and driven individuals who like to have fun volunteering while planning the free-admission community festival. Share your passions and tallents – anything from amateur photographer to marketing guru, or music fanatic to sports enthusiasts. Join our team today!
Mission Statement
Paperfest is a fun, community driven festival featuring fun for all ages through music, food, sports, family fun and much more! Proceeds from Paperfest are donated back into the community through various charitable organizations in the Fox Valley.
Paperfest strengthens our community by utilizing the expertise and generosity of volunteers, sponsors, and donors.
The Paperfest planning committee is comprised of multiple subcommittees all working together to make sure this event runs smoothly.
Community Roots
Paperfest is all about community! From the volunteers to the generous partners, the community comes together to have a great time and the proceeds are donated to local charitable organizations.
Over the past 30+ years, Paperfest has donated over $1,000,000 to more than 75 nonprofit, civic, and service organizations. Volunteer organizations are paid out an hourly rate for their services at Paperfest. This means the more the organization works, the more money they make.
Our goal is to provide a fun, family friendly, community festival as well as donate over $100,000 for the local non-profit organizations.
History of Papermaking in the Fox Cities
At its height in the mid-1900s, Wisconsin was the leader in paper production worldwide, with the Fox Cities and Fox River being the driving forces behind the state's achievement of this title. The Fox River drops 170 feet in 35 miles, creating hydropower – a cheap and non-polluting form of electricity. At one point, there were approximately 150 paper mills in Wisconsin, with the majority of them lining the Fox River. For decades the highest concentration of paper mills in the world stretched from Neenah to Green Bay.
Wisconsin's papermaking history began in Milwaukee on March 7, 1848 – three months later Wisconsin became a state! The paper was made from rags, straw, and wastepaper and was used to publish the first issue of the Milwaukee Sentinel & Gazette. A plentiful supply of water is important in papermaking. This is why paper mills were built along the major rivers of Wisconsin: Fox, Wisconsin, Chippewa, Menominee, Peshtigo, Eau Claire and Flambeau. Forests were also very important because wood fiber was necessary in the papermaking process. Papermaking's rich history took place predominantly in the Fox River Valley, creating rapid growth and prosperity.
Each paper mill brought something new and important to the paper industry in Wisconsin. At one point, papermaking accounted for 60 percent of the non-farming jobs in Wisconsin and was the backbone of the state's economy. Having all the blessings nature could bestow and drive to use them, it was possible for the people of the Fox River Valley and Wisconsin to enjoy an abundant share of both the necessities and amenities of life. Paper is an important piece of our history!
THE PAPER INDUSTRY AND ITS INNOVATORS HAVE SHAPED THE FOX CITIES FOR GENERATIONS.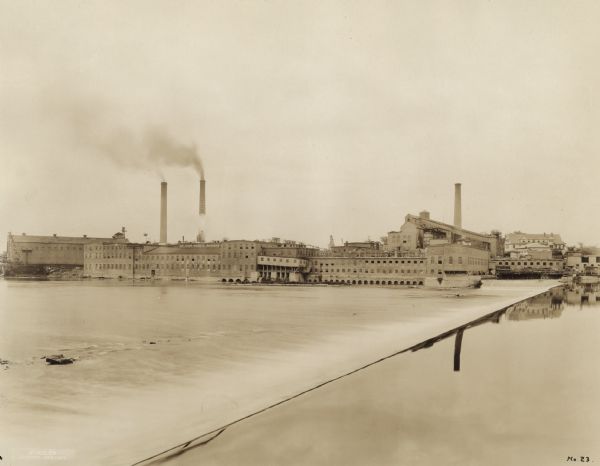 Kimberly Mill Photo (1922) – https://www.wisconsinhistory.org/Records/Image/IM131921
KIMBERLY MILL History
Kimberly-Clark Corporation purchased the property with access to the Fox River for water power in 1889. Two years later the mill burned down and John Kimberly rebuilt the mill on its original site as a testament to the hardworking people of the community. In honor of John Kimberly, the community was incorporated as the Village of Kimberly in 1910.
The Kimberly Mill made newsprint and in the 1920's it started making coated paper. Kimberly-Clark sold the mill in 1976 to Repap (Midtec). Repap invested into the mill with expansions in 1980 and 1988 including the additions of new paper machines. After a successful run producing fine paper, magazine paper, and specialty paper the mill was sold in 1997 to Consolidated Papers (Interlake Papers). Then the mill was sold to StoraEnso (2000) and finally to NewPage (2007). By September 2008 NewPage completely shutdown operations of the Kimberly Mill.
After efforts to reopen the mill were unsuccessful, the property was sold in 2011 to American Iron & Metal Demolition and equipment was auctioned off. In 2017, the Village of Kimberly acquired and began to develope the land as The Cedars, a homage to Village of Kimberly's former name. The Cedars Development is home to single family homes, condos, apartments, and businesses.
THE PAPER INDUSTRY IS A HUGE PART OF THE VILLAGE OF KIMBERLY'S HISTORY AND PAPERFEST IS HERE TO CELEBRATE THAT!
1848
Wisconsin became a state and the State's First paper mill was built in Milwaukee
1889
Kimberly Mill built by Kimberly-Clark
1989
Kim-Com Promotion produced first Paperfest event on the 100th annivarsary of the Kimberly Mill
2006
Paperfest expaned to a 4-day event
2008
Kimberly Mill Closed
2016
Paperfest was moved to Memorial Park in Combined Locks for the Year due to road Construction in front of Sunset Park
2017
Nearby Combined Locks Mill (opened in 1889) Closed, but after fighting for survival the mill was re-opened and converted to brown paper
2020
COVID-19 pandemic and social distancing caused the transition to the first ever Drive-In ConcertS at Fox Cities Stadium (Timber Rattlers) hosted by Paperfest
2021
Kim-Com Promotion (Paperfest) donated over $1 million since the event's inception.
Paperfest was moved back to Memorial Park to help the Village of Combined Locks Celebrate their centennial (delayed from 2020) with fireworks, a parade, and Nearly 30 live music acts